Comprehensive Auctions and Foreclosure Listings for Serious Investors
---
As a serious real estate investor, you need resources that make it simpler to buy, renovate and sell homes. Scouring through numerous websites and piles of Maryland newspapers for foreclosure listings and house auctions is not a valuable use of your time. Arriving at the courthouse only to learn of a cancellation is frustrating.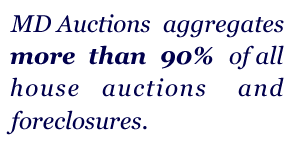 MDAuctions, which was created by real estate investors like you, is Maryland's only comprehensive source for foreclosure and public home auctions. Not only does an MDAuctions membership provide an aggregated list of upcoming auctions, but also it alerts you of cancelled auctions – before you head to the auction house or the courthouse.
Convenience of MD House Auctions and Foreclosures in One Place
Imagine taking all of the listings for foreclosures and public real estate auctions from every MD newspaper and auction house in the state, removing the duplicates, and finding all of the entries that match your optimal criteria. Tackling that research and sorting it by yourself would consume extensive amounts of your valuable time.
Now, you can have access to that data with a few clicks of your mouse. MDAuctions aggregates more than 90% of all house auctions and foreclosures in Maryland. Collecting the data is only the start of the website's functionality. With a membership, you will be able to select specific search criteria, including:
Keywords
Days until auction
Auction status (new, current, modified,
or cancelled)
Deposit amount
Auction house / Auctioneer
City and/or country of house or property being auctioned

Your MDAuctions membership also includes email alerts for MD foreclosure and public auction listings based on your own search criteria. You will also be alerted of cancelled auctions – allowing you to avoid wasted trips to the courthouse or the auction house. Give yourself an edge in the real estate investment market. Invest your energy in discovering the properties that have the greatest revenue potential for your needs. Join MDAuctions today.
Find Significant Discounts on Maryland Real Estate Investments
Real estate investing is your business and you know what you can reasonably make on a property bought at auction. In order to cover your initial investment and overhead and still making a profit, you need to find foreclosures and houses at auction at a cost significantly less than market value.
Using the search features of MDAuctions, you can focus your search on auctions for Maryland properties that are in a specific neighborhood or fall within a certain deposit range. You can remove some of the uncertainty of auction bidding by allowing yourself additional research time before the auction, so you know what is worth the investment and what isn't.
Save 75% or More with Yearly MD Auction Memberships
You haven't become a successful investor by throwing money away on something you have not tested. If you're not convinced that an MDAuctions membership will be beneficial to you, start with trial period membership.
After a short trial, you will most likely see the benefit of having access to this aggregated auction data and may consider an extended membership. A one year membership will save you 75% over a weekly membership and a two-year membership will save you 80%. Decide which level works best for you and sign up for an MDAuctions membership today.