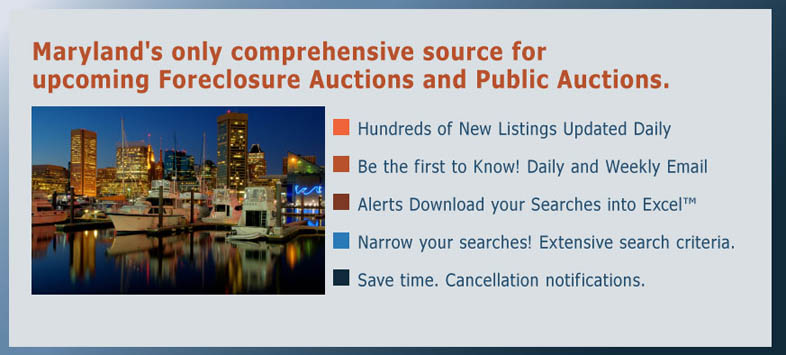 TRY OUT A FREE SEARCH TODAY!
Maryland's Only Comprehensive Source for Upcoming Foreclosure Auctions and Public Auctions
---
Get Maryland Foreclosures and Home Auctions in One Place
Hundreds of new listings updated daily.
Narrow your searches with extensive
search criteria.
Be the first to know! Daily and weekly
email alerts.
Save time with cancellation notifications.
Trying to keep track of the constantly-changing list of Maryland foreclosure auctions and public home auctions can be overwhelming. Searching auction listings in stacks of newspapers or combing through various websites wastes your time as you weed through duplicate listings and find auctions that may have already been cancelled.
Save yourself from this hassle with a membership to MDAuctions. As a member, you have access to a comprehensive list of Maryland foreclosures and home auctions. Your membership benefits include:
• The ability to search Maryland's largest up-to-date database of public auctions
• Email updates for newly listed or modified real estate auctions
• Auction cancellation alerts to help you avoid a wasted trip to the courthouse
Powerful Enough for Serious Real Estate Investors – Simple Enough for Public Auction Novices
Whether you are a seasoned real estate investor or a home owner interested in buying a second house at auction, an MDAuctions membership can benefit you. MDAuctions aggregates listing information from more than 90% of the foreclosures and public house auctions in Maryland. The MDAuctions system is easy to use, but filled with a powerful amount of information. With comprehensive auction listings in one, easy-to-search database, you can easily get a competitive edge.
Invest in the Competitive Edge
An MDAuctions membership can be yours for as little as $2 per week – a small price for a significant value. If you're not ready for a long-term commitment, you can start a trial membership with no strings attached.
Sign up for an MDAuctions membership and start getting access to up-to-date Maryland public auction and foreclosure listings today. Contact our team if you have any questions.